For all Mixed Martial Arts fans, the water cooler conversation is who is the greatest of all time. The term gets bandied around a lot but why? Is it because fans and armchair analysts want to belong to a crowd or plant their flag in a hill that nobody else has claimed yet? Possibly but before we can evaluate this, one aspect of that is who is the best and who is the greatest? Both terms are interchangeable on the surface but there are distinct differences.
When breaking this down in the context of Mixed Martial Arts, we are going to look at the lightweight division. If we are to run through Atomweight all the way to Heavyweight, this article would rival the length of the King James Bible.
In most circles, Khabib is the consensus "greatest" lightweight to have ever put on the 4oz gloves- I disagree. Why Barry? He is a dominant champion that has a stranglehold on a stacked division, he makes all of his opponents look average and makes their biggest strengths become their greatest weaknesses (UFC 249 pending). Khabib is the best lightweight without question but he is far away from staking his claim as the greatest.  This comes to relative wins and relative losses which I feel is an overlooked concept in the best vs greatest conversation.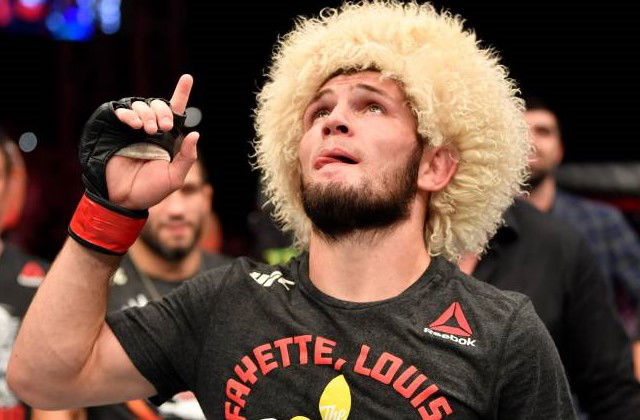 Khabib has a spotless record at the time of writing this piece. He has won all of his fights and has only dropped one round in his career. Nurmagomedov has finally scaled the summit and  became the 155 pound champion against a gutsy Al Iaquinta. What does his resumé tell us? 
The Eagle has lopsided victories over Kamal Shalorus (9-5-2), Gleison Tibau (35-14), Thiago Tavares (22-10-1), Abel Trujillo (15-8-1) to name but a few. These fighters are not the caliber of fighter for a man like Khabib. You can argue that Khabib has only beaten three top level fighters : Rafael Dos Anjos, Conor Mcgregor and Dustin Poirer. While these are all impressive scalps on his CV, it is ludicrous to call him the greatest of lightweight of all time. There is one man that deserves that title and he can be described in one word : conqueror.
That man is The Underground King Eddie Alvarez. Now, you are probably saying how can you think this? I don't think- I know and here is the case. Fasten your seat belts.
Eddie Alvarez was the first fighter in the history of the sport to win both the Bellator and UFC championships and both at the first time of asking. While many of his opponents' records are not the best reading, this is where the concept of relativity and context come into play.
He has wins over former world champions and dominant ones at that. At 24 years old, he progressed to the final of the Dream 5: Lightweight GP and would have won if he had not suffered an arm injury in his semi final bout. In that tournament, he had the 2008 fight of the year against Joachim Hansen and would win the GP as he subbed in for Alvarez. Along the way, he finished a prime Shinya Aoki and KO'd Aoki again in Bellator. While he was in Bellator, he accumulated a 9-1 record losing only to Bellator original Michael Chandler in one of the greatest fights of all time (my personal favourite) but he had got his win back soon after. The title was vacated after he left for pastures new. Bellator – conquered.
In the UFC, he would only face former and future world champions bar his debut against the wily veteran Donald Cerrone. He pummeled RDA, dominated Gilbert Melendez, toughed it out against Pettis and smashed Justin Gaethje. The loss at UFC 205 will always linger over him but at that point, he has nothing left to prove. It was a mixed tenure under the Zuffa umbrella but he did what most, if not all, Bellator champions failed to do- conquer.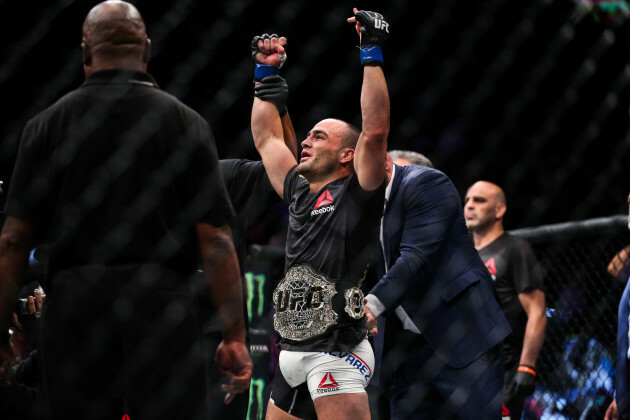 Eddie Alvarez is currently signed to the Asiain outfit: One Fighting Championship where he has fared less than spectacularly but I have no doubt that we will be seeing gold around his waist again in the near future. All of his achievements are supported by the time in which he faced his opponents : in their prime. The nickname is fitting : he is from the underground and he is the king of 155. Long live the king. 
In conclusion, the best is the most talented at one period of time and the greatest is the legacy that is left behind. Khabib is on the way and might surpass Alvarez but this is a marathon, not a sprint. This is the fun part of the sport : debates and intelligent conversation. This is all subjective but that is the fun with the ongoing GOAT debate. Life wouldn't be interesting if we thought the same.